BuildOrBuy Group Network
[ www.buildorbuy.org | www.buildorbuy.net ]
Intel PIII Desktop Processor Reference Chart
Product Code Names: Katmai & Coppermine, then Tualatin followed by Willamette, P4 (423-pin). Slot 1 gives way to FC-PGA by June 2000. Excerpted from Intel Developer Forum Notes, 1998/1999; Intel University Press – First implementation: PC 99 System Design Guide from Intel and Microsoft. PC 99 System Design Guide Book
Katmai New Instructions for rich data types; 70 new instructions able to do high-performance audio, 3-D animation, MPEG-2, decode on the processor. Katmai was introduced in the first quarter of 1999.
Katmai New Instructions (added to MMX Technology), first on 0.25-micron technology, 450 and 500 MHz, and soon after that, Intel introduced Coppermine (With micro architectural enhancements), which is basically a Katmai processor built on 0.18- micron technology, in production in 1999, higher than 500 MHz; also announced to have integrated Level 2 cache because of the capability of the 0.18-micron technology. We hope you find the info below helpful. Enjoy!
A Tualatin P3 CPU is built on the .13 micron technology as opposed to the .18 of a Coppermine. The Tualatin can have 256k or 512k of cache onboard. The difference of .18 to .13 micron is that it runs at a slightly different voltage than the Coppermine and thus the reason a motherboard has to support it!
The Tualatin P3 .13 micron CPU's require FC-PGA2 370 pin Package. By site, the FC-PGA2 CPU has a larger core than the FC-PGA CPU. Both utilize socket 370. FC-PGA2 370 pin Packaged P3 CPU's include: 1130A, 1200EB, 1000A, - 256K L2 Cache; 1.26, 1.13, 1.4GHZ - 521K L2 Cache (9/10/2002).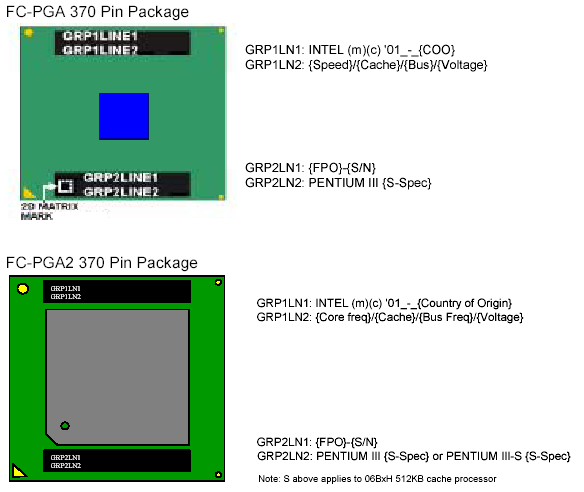 Note: Processors below, highlighted in blue, are currently available as of 08-04-2001 @ AxionTech.com.
| | | | | |
| --- | --- | --- | --- | --- |
| Processor | Type | Bus Frequency | L2 Cache | Package Type |
| PIII - 1.40 GHz | Coppermine | 133 MHz | 512K | |
| PIII - 1.2EB GHz | Coppermine | 133 MHz | 256K | FC-PGA |
| PIII - 1EB GHz | Coppermine | 133 MHz | 256K | FC-PGA |
| PIII - 933EB | Coppermine | 133 MHz | 256K | FC-PGA |
| PIII - 866EB | Coppermine | 133 MHz | 256K | FC-PGA |
| PIII - 850 | Coppermine | 100 MHz | 256K | |
| PIII - 850E | Coppermine | 100 MHz | 256K | FC-PGA |
| PIII - 800EB | Coppermine | 133 MHz | 256K | SECC2 - Slot 1 |
| PIII - 750 | Coppermine | 100 MHz | 256K | SECC2 - Slot 1 |
| PIII - 750E | Coppermine | 100 MHz | 256K | FC-PGA |
| PIII - 733 | Coppermine | 133 MHz | 256K | SECC2 - Slot 1 |
| PIII - 733EB PGA | Coppermine | 133 MHz | 256K | FC-PGA |
| PIII - 700 | Coppermine | 100 MHz | 256K | SECC2 - Slot 1 |
| PIII - 700E PGA | Coppermine | 100 MHz | 256K | FC-PGA |
| PIII - 667 | Coppermine | 133 MHz | 256K | SECC2 - Slot 1 |
| PIII - 667 PGA | Coppermine | 133 MHz | 256K | FC-PGA |
| PIII - 650 | Coppermine | 100 MHz | 256K | SECC2 - Slot 1 |
| PIII - 650 PGA | Coppermine | 100 MHz | 256K | FC-PGA |
| PIII - 600EB | Coppermine | 133 MHz | 256K | SECC2 - Slot 1 |
| PIII - 600EB PGA | Coppermine | 133 MHz | 256K | FC-PGA |
| PIII - 600E | Coppermine | 100 MHz | 256K | SECC2 - Slot 1 |
| PIII - 600E PGA | Coppermine | 100 MHz | 256K | FC-PGA |
| PIII - 600B | Katmai | 133 MHz | 512K | SECC2 - Slot 1 |
| PIII - 600 | Katmai | 100 MHz | 512K | SECC2 - Slot 1 |
| PIII - 550 | Katmai | 100 MHz | 512K | SECC2 - Slot 1 |
| PIII - 550E | Coppermine | 100 MHz | 256K | SECC2 - Slot 1 |
| PIII - 550E PGA | Coppermine | 100 MHz | 256K | FC-PGA |
| PIII - 533B | Katmai | 133 MHz | 512K | SECC2 - Slot 1 |
| PIII - 533EB | Coppermine | 133 MHz | 256K | SECC2 - Slot 1 |
| PIII - 533EB PGA | Coppermine | 133 MHz | 256K | FC-PGA |
| PIII - 500 | Katmai | 100 MHz | 512K | SECC2 - Slot 1 |
| PIII - 500E PGA | Coppermine | 100 MHz | 256K | FC-PGA |
| PIII - 450 | Katmai | 100 MHz | 512K | SECC2 - Slot 1 |

Intel Pentium III processor - CPU Info
Package Type Configuration:
EB Designators -

The "E" and "B" designators distinguish between Intel Pentium III processors with the same core frequency but different system bus frequencies and/or cache implementations.

If, for a given core frequency, Pentium III processors are only available with one system bus frequency and one cache implementation, the above designators will not be used. See: Specification Updates for thePentium® III Processor (7-18-2002).




Chipsets - PC Component Chipsets: MB, Video & Audio/Sound Card

Search - Search BuildOrBuy web sites or the Internet
Intel.com Packaging Data - ESD

Documentation courtesy of BuildOrBuy Member, Jerry Lee - OTC.
Copyright © 1992, 1994, 1995-97, 2000-2001, Build Or Buy Group Network News!
Web Development, Gill Boyd & Team - Posted 5-1- 2000, Updated 08-11-2001; Revised 03/26/2004