Disabling CD Auto Play (Auto CD Run):
Tired of the feature creep AutoPlay CD-ROM? Novelty wearing thin for Audio CD & Data CD AutoPlay? Introduced to us in Win95, AutoPlay has its' merits for new Users. However, Power Users may find it annoying and wish to turn it off. We have included screens of the Win98 variety of AutoPlay and where to locate the "No Mas" mechanism as in "no more"! ;)
And for those of us who have graduated to Win2000, we suggest installing either Microsoft TweakUI or Xteq X-Setup. Links to either can be found on our Downloads pages in column II.
Best advice from George Walker: CD Auto Play can be disabled using TWEAK UI. After installing "TweakUI 1.33 Update" following Microsoft's instructions. Click on the TAB Paranoia (2/21/2002).
Or, the Win2000 Registry Hack... Feeling Lucky?
Disabling AutoPlay Using regedit.exe:
Change the follow registry setting: HKEY_LOCAL_MACHINE\SYSTEM\CurrentControlSet\Services\Cdrom change "autorun" to 0 (zero)
Or... From Windows Help, to temporarily suspend this feature in any flavor of Windows: Hold down the Shift key while inserting a CD.
OR... The gory details, full explanation - More AutoPlay ways than you may want to know:
JSI Tip 2316. Windows 2000 CD Autorun.
Quoting, "If Autorun is 0, Autoplay is disabled on all drives. If Autorun is 1, you can hold down the shift key as you change media to prevent Media Change Notification (MCN). Appropriate settings in NoDriveAutoRun also disable Autoplay."
Under Win98:
From Desktop - Right click on "My Computer," select "Properties," select 2nd tab, Device Manager Tab. Expand Tree for your CD-ROM, select Properties.

Win98 Device Manager Properties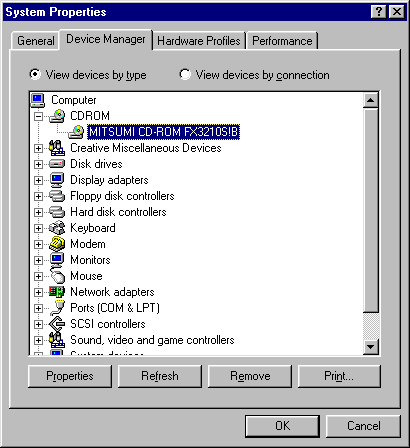 Select 2nd tab, Settings. Remove check for Auto insert notification. Select "OK" to accept changes.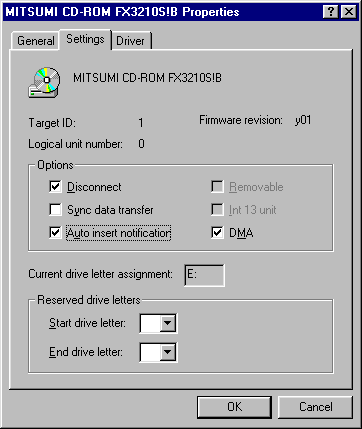 From our Members, another way... From Explorer. Selecting Folder Options location depends upon which flavor of Win98 and which version of Explorer you're using.. When you DO get there:

Win98 Folder Options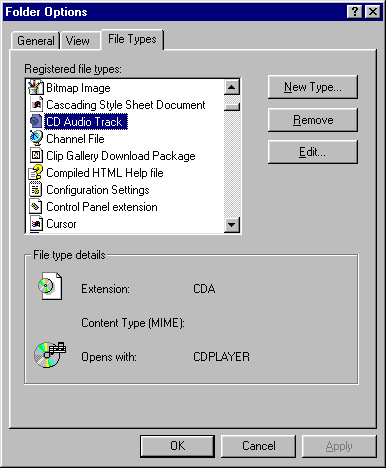 Click on Edit.
OR...
If "Play" is highlighted bold, click on "Play" to un-highlight then click on Set Default to disable. Reverse to change back. K.I.S.S. - TweakUI should work for all versions of Windows. Let us know how you make out!